Murmel Comics ist hier zu finden, wir freuen uns über Besuch!
Electric Avenue / Quartier 21 / MQ Wien - 10.00 ­- 19.00
Am letzten Wochenende der VIENNA ART WEEK präsentieren und zelebrieren Kunst-und Kulturschaffende im quartier21 entlang der Electric Avenue ihren Enthusiasmus für Do­-It­-Yourself­-Kultur, Self­-Publishing und den Drang, die Dinge selbst in die Hand zu nehmen.
Now form a band! Now print a zine! Now build your own scene!
Projektpräsentationen, Workshops und das gemeinsame Nachdenken darüber, welche Rolle Museen in einer Kultur der Selbstermächtigung spielen könnten.
Ergänzend zum umfassenden Workshops und Präsentationen und den offenen Künstlerateliers der Artists­-in­-Residence­-Studios beim OPEN STUDIO DAY laden das quartier21 und die eSeL REZEPTION erstmals zum "Self Publishing Saturday":
Entlang der gesamten Electric Avenue können im Eigenverlag veröffentlichte Bücher, selbst publizierte Zines und weitere Publikationen kostenlos präsentiert, getauscht und verkauft werden.
Bring, trade & sell your own books, zines & publications!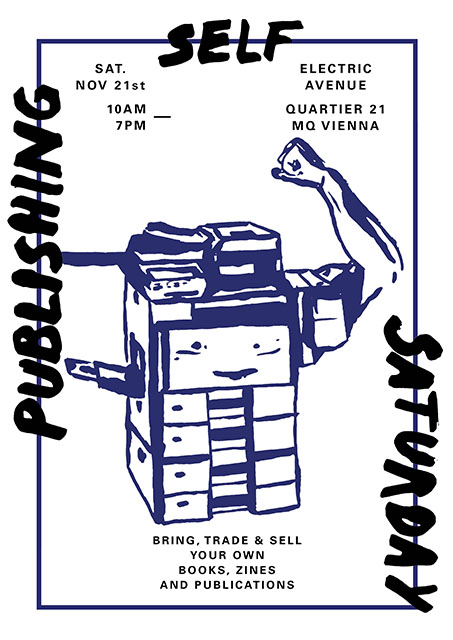 Programm
Samstag, 21. November
10.00 ­- 19.00
Self Publishing Saturday
Bring, trade & sell your own books, zines & publications!
entlang der gesamten Electric Avenue
feat. ASIFAkeil, EIKON, eSeL.at, edition mono/monochrom, Say Say Say Inc., SRA, q/uintessenz, u.v.a.!
ab 11.00
Build your own (Mini)Synthesizer
Workshop (Artistic Bokeh) im Raum D
12.00 - ­16.00
NEW Publication Modes
Gruppe OR­-OM präsentiert E­Books. Gratisdownload, No Copyright und No CC.
14.00­ - 20.00
TRANSFORMER im Raum D
DIY­Culture, Tapes, Vinyl, Zines, Coffee & Community
ab 14.00 SOYBOT "Bodypainting"­Workshop im Raum D
ab 16.00
Station Rose
Transferprozesse 2015 - from analog to digital & back again
ab 17.00
CHESTO - At the Checkout - Hands on game presentation
Playful commentary on modern day society by Josef Wiesner & Felix Bohatsch in Raum D
19.00
q/uintessenz "Wir, Autoren unserer eigenen digitalen Vita"
Wir schreiben unsere Geschichte, Big Data interpretiert unser Leben.
Paneldiskussion im Raum D
- See more at:
http://esel.at/tag/vienna-art-week#sthash.tRKCKYYB.dpuf